BAILLEUL, PHARMACEUTICAL LABORATORY SPECIALIZING IN DERMATOLOGY AND GYNECOLOGY
Back

Your hair & nails

Discover our products

See all our products

Our expertise in detail

Our tips for your hair & nails

Your skin

Our expertise in detail

Our tips for your skin

Women's health

Our expertise in detail

Our tips for women's health

Family medication

NOTRE EXPERTISE EN DÉTAILS

Bailleul

OUR VALUES

OUR EXPERTISE

OUR IMPLANTATION

BECOME PARTNERS

Recruitment

Mycogel
Hygiene is 1° step of each care routine.
Our solutions for all your needs
MYCOSIS IS THE MOST FREQUENT SKIN DISEASE AMONG ADULTS : 9,5% *
Itching, redness and aestetic changes are the most common symptoms for frequent types of mycosis such as athlete's foot, pityriasis versicolor and onychomycosis. In some cases, mycosis may be recurrent and long to treat, by prolonging so the frustration sensation and impacting the Quality of Life. **
Following a good skin hygiene may help and protect your skin.
Hygiene is the 1° step of each treatment routine.
COMPLETE YOUR CARE ROUTINE WITH A SPECIFIC HYGIENE PRODUCT, TESTED ON SENSITIVE SKIN PRONE TO MYCOSIS.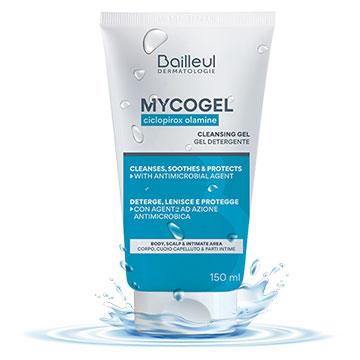 *Richard MA, Paul C, Nijsten T, et al. Prevalence of most common skin diseases in Europe: a population-based study. J Eur Acad Dermatol Venereol. 2022;36(7):1088-1096. doi:10.1111/jdv.18050
**P. Parinyarux 1 , W. Thavornwattanayong 2,* , Ch. Soontornpas 3 and P. Rawangnam Towards Better CARE for Superficial Fungal Infections: A Consultation Guide for the Community Pharmacy. Pharmacy 2022, 10, 29.
Our products Mycogel
Mycogel
Hygiene is the 1° step of each care routine
Mycogel is the specific...