OUR 10 TIPS TO HAVE BEAUTIFUL HAIR
The shine and suppleness of your hair depend on their nature and your general health, but also on your diet and how you take care of it each day: washing, drying, brushing, etc. Discover the right things to do every day for healthy hair!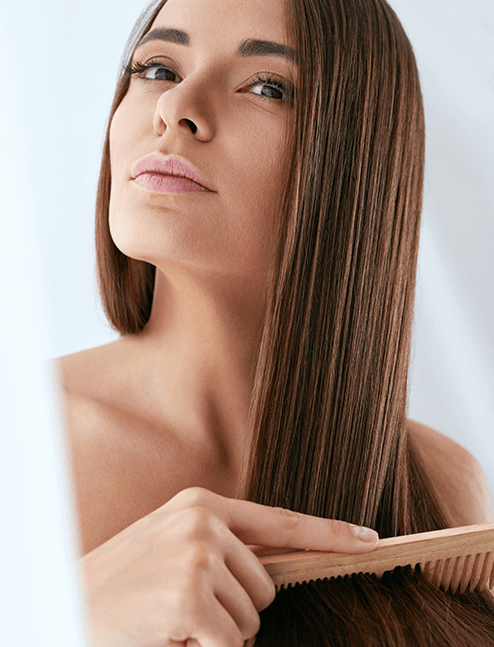 No need to give your hair a cold rinse: the myth that cold water will make hair shiny has no scientific basis.
Once a week, apply a nourishing treatment after the shampoo. Oils, which should be applied and left on before shampooing, also provide deep nourishment.
If your hair is fine, dry or brittle, wait until it is dry to untangle it: it is more fragile when it is wet. In all cases, take small steps starting with the tips and gradually working your way up to the root.
After washing, dab your hair without rubbing with a soft towel. When you can, then let it dry naturally.
If you use a hair dryer, use lukewarm air, as hot air is aggressive to the hair fibre, and do not place it too close to the hair.
Avoid hair straighteners, which are very aggressive for the hair fibre, or use them only in exceptional circumstances.
Do not use hair dye more than once a month, and choose ammonia-free products, which are less corrosive.
Gently brush your hair morning and evening with a natural bristle brush, which is more respectful of the hair fibre. Brushing in the evening removes dust and impurities accumulated during the day.
Adopt a varied and balanced diet. Pay particular attention to your intake of protein, iron, zinc, magnesium and vitamins, nutrients that are essential for healthy hair.
Carry out fortifying food supplement cures for the hair several times a year.